Clothing and accessories for Spring and Summer 2008: what to wear and what not to wear. Fashionising.com tracks the 2008 fashion trends girls should be investing in, those you should be avoiding, and they key looks you just can't miss. We're also tracking 2008's hair trends, click here to read that.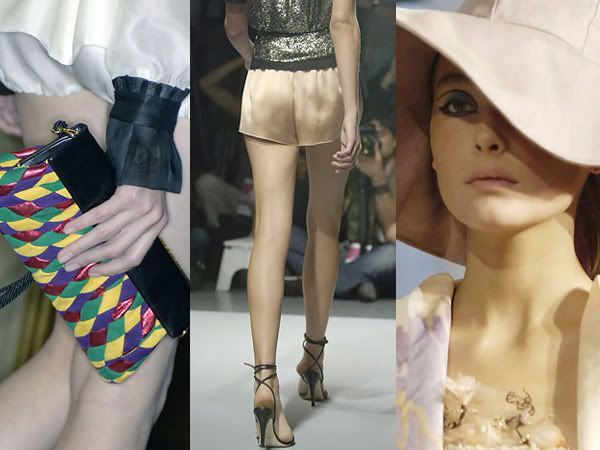 Sheer bliss: see-through trend makes it big
What: huge on the Spring / Summer 2008 runways, sheer fabrics were on everything from Louis Vuitton's coats to Rodarte's flowing dresses and Luca Luca's sheer tailored pants. In 2008 it's more about covering the skin subtly than a brazen attempt to reveal it. Click here to read more about the sheer trend.

Seen on: the runways of Christian Dior, Fendi, Chloe, Chanel, Jill Stuart, Derek Lam (pictured), Louis Vuitton, Luca Luca, Alessandro Dell'Aqua, Jil Sander, Marc Jacobs, and Rodarte (to name a few).

Longevity: expect this trend to peak in 2008 and last into 2009.
Invest in: draping tops and dresses in fabrics like chiffon. Sunray-pleats in see-through fabrics. Pieces that have subtle sheer details for every-day wear, such as sheer sleeves, sheer panels on dresses, or transparent-fronted blouses. If you want to go boldly on trend try sheer skirts, pants or coats in stiff fabrics like organza or taffeta.

Avoid: figure hugging sheers that give away too much – it's all about elegance.
Boudoir belle: lingerie inspired trend

What: underwear becomes outerwear in 2008's lingerie-inspired dressing. Moving away from corsetry and structured tight-fitting forms, 2008's trend flows, drapes and falls in seductive and feminine fashion. Read more about the boudoir trend.

Seen on: Miu Miu, Christian Dior, BCBG Max Azria (pictured), Blumarine, Reyes

Longevity: a fairly timeless look if done right, invest in the correct pieces and they'll last into and beyond 2008.
Invest in: delicate pieces where soft femininity meets 1930s glamour and independence. Camisoles and slip dresses in silk, satin and charmeuse with lace details.

Avoid: anything too vampish or over-the-top burlesque.
Move over skinny: wide-leg and flared the latest trends


What: A full pendulum swing away from the skinny cuts of the past several years, wide-legs and flares are making their return. Click here to read more about the wide-leg trend.


Seen on: Prada, Badgley Mischka, Gianfranco Ferre, Karen Walker (pictured), Pringle of Scotland.


Longevity: trends in pant-cuts move slower than some other types of trends; and with many people still revelling in their skinnys, wide-legs will take time to fully penetrate the mainstream. Expect a mix of cuts from slim leg to skinny flare to high-waisted wide leg over the next few years.

Invest in: a style that suits you, not that is dictated by the trends. If you're shorter, a slimmer style may be best. Also, wide-legs will always be more flattering with heels, no matter what your height.


Avoid: ill-fitting wide-legs that slouch too much; they need to be a tidy fit.
Torn denim and ripped jeans: back again!


What: Just when you thought they'd died out for good, ripped jeans are making a return, as well as other forms of torn denim – from shorts to jackets and vests. Click here to read more about the wide-leg trend.


Seen on: Maison Martin Margiela, Christopher Kane.


Longevity: sexed-up ripped denim is a popular trend for photo shoots and editorials. Whether it will translate to the streets is another thing, but it's more likely to make it's mark in cut-off shorts and ripped denim skirts rather than the full-on torn denim jean.

Invest in: sexy, rebellious pieces that scream rock-goddess.


Avoid: looking like an 80s heavy-metal fan.
Shoulder accents: a new take on shoulder padding


What: not so much shoulder pads as shoulder accentuation, there's both a historical and a futuristic element to 2008's shoulder trend. Click here to read more about the accentuated shoulders trend.


Seen on: the over-emphasised round shoulders at Balenciaga, to the pointed edges of Yves Saint Laurent, Maison Martin Margiela and Fendi.


Longevity: to the mass market, this trend will take shape in subtle puffed sleeves and squared-off shoulders. If high-street stores are quick to replicate the trend to a more subtle, everyday degree, it will hit mainstream consumption pretty quickly and will morph into some new cut by 2009.

Invest in: subtle pieces if you want them to last; striking, sharp, futuristic style shoulders if you're an early adopter of the trend and want to turn heads.


Avoid: 80's style shoulder-padded power suits. It's all about clean-lines and feminine silhouettes.
Jazz-age baby: 1920's flapper trend


What: elements of the 1920's flapper return with a modern twist. Click here to read more about the flapper trend.


Seen on: the runways of Chanel, Reem Acra, Christian Dior, Reyes, Rodarte, John Galliano.


Longevity: with a head start in 2007, helped along by Kate Moss, this trend has already had a bit of a run and will come and go more quickly. Elements will carry through the year, but head-to-toe looks will lose favour.

Invest in: well crafted designer pieces with intricate beading or fringing that will hold their value; the bob; 1920s sporty chic.


Avoid: looking like you're going to a costume party. Mix it up with a slightly modern feel.
Tuxedo dressing for women

What: a trend pushed along by Kate Moss, the tuxedo trend is hotting up for Spring / Summer 2008. Able to transcend the boundaries between casual and evening-wear, the dinner jacket in particular is a staple of 2008.Click here to read more about the tuxedo trend.

Seen on: the runways of Jens Laugesen, Anne Demeulemeester, Miu Miu.

Longevity: in lighter fabrics for Spring, this will easily carry over into the colder months of 2009.
Invest in: slim-cut dinner jackets in luxe fabrics; tuxedo bibbed shirts and blouses in soft feminine fabrics or worn crisp and long as a dress.

Avoid: looking too harsh and masculine – always add a spot of femininity.
Art Deco returns: 1930s and 40s glamour
What: As well as the 1920s jazz age and flapper inspirations, later Art Deco (1930s-40s) is also huge for Spring. The main thing to take away from the era is the elegance and sophistication. Click here to read more about the Art Deco trend.

Seen on: the runways of Rodarte, Marc Jacobs, Badgley Mischka, Temperley.

Longevity: more lasting than the novelty of the flapper trend, this one will last into 2009 due to the Autumn / Winter elements.
Invest in: Flowing silk and satin a la Keira Knightley in Atonement. Geometric designs on buckles, brooches and prints. Team with red lipstick and 1940s screen starlet waves for an authentic feel, or with patent leathers and rock-chic bed-hair for a more modern take.

Avoid: skimping on quality – sophistication is all in the details and cheap knock-offs just won't cut it.
Stars and stripes – 2008's motifs

What: a running motif through 2008's Spring / Summer shows was stars and stripes. Claudia Schiffer wore one of Chanel's star spangled pieces in a Karl Lagerfeld shoot, before Kate Moss wore the same to celebrate her 34th birthday. Click here to read more about the star trend.

Seen on: primarily Chanel and YSL, with hints of the theme in other collections.

Longevity: more a recurring motif than a fully-blown trend, this will be replaced easily by other shapes and prints of fancy.
Invest in: elegant pieces that scream 1930s glamour and not 5-year-old kitsch.

Avoid: overdoing it with childish star and moon prints.
Big, bold, bright and gold: 2008's jewellery
What: from huge jewelled cocktail rings to ethnic-inspired cuffs and necklaces, when it comes to jewellery 2008 is all about making a statement. Click here to read more about 2008's jewelry trends.

Seen on: Any fashionista or celebrity with an eye for great accessories. Kate Moss gave a leading example in Vogue Nippon.

Longevity: as clothing styles became more minimalistic in previous seasons, accessories eventually swung the other way to compensate. With detail on clothing picking back up again in a big way, accessories will level out.
Invest in: quality pieces that are simultaneously 'right now' and classic enough to store for future.

Avoid: cheap bling.
Stay ahead of this year's fashion, hair, and beauty trends with Fashionising.com'Äôs constantly updated Fashion Trends 2008 bible!