Like all fashion trends, hair trends generally come, go, and eventually come back. Infrequently, though, there is the odd hairstyle that appears to have had its time, only to soon reappear, though thoroughly evolved.
The bob and fringe (bangs) is one such hairstyle.
Surging to popularity in 2008 before fading out at the tail end of 2009, I didn't think that less than a year later a come back may be on the cards. And yet here it is, spurred on largely by model Abbey Lee Kershaw, as a part of 2011's hair trends.

Bob hairstyle on Abbey Lee Kershaw
Read on to find out more about the comeback of the bob with fringe hairstyle and how it differs from the style worn by so many through 2008 and 2009. And don't forget: if you'd like to keep up to date with all the latest hair trends, along with 2011 fashion trends, be sure to subscribe to Fashionising.com's newsletter or our RSS feed.
Bob with bangs / fringe: difference in '11?
When it was last a hairstyle trend the bob with bangs / bob with fringe was all about razor sharpness – after all, it's origins were lay in the popularity of Victoria Beckham's razor sharp 'pob' hairstyle. Thus in 2008 the bob that was favoured had an edgy appeal and was often bluntly cut to chin length. By 2009 the bob had softened a little: fringes were growing out and messy layers were taking over from blunt lines.
In 2011, the bob with bangs / fringe hairstyle continues its evolution. Like so many of the year's clothing trends, the bob with bangs / fringe is going retro. The trend towards sophisticated 1970s dressing sees the bob evolve into something slightly longer and become a hairstyle that is neatly blow-waved under with a straight (but not too harsh) edge.

Abbey Lee Kershaw with a bob and bangs / fringe in Vogue Nippon
The same long bob can, in 2011, also be styled with a 1960s twist: back-combed for volume with the ends flicked out, or with a softer folk influence and unfussy styling (think Jane Birkin and Francoise Hardy).

Sixties long bob with long fringe: Francoise Hardy
About the fringe / bangs
By no means is the fringe mandatory to create a retro-inspired bob; you'll note that Keira Knightley is sans fringe in the inspiration link below. A fringe with a bob is, regardless, a part of the bob hairstyle trend in 2011.
The thickness and cut of the fringe hasn't changed all that much over the past few years; with fashion favouring thick fringes with blunt-cut lines. Wispy or layered fringes are still to be avoided. What you can play with is the length, with a shorter fringe (like the one seen on Abbey Lee Kershaw, below) another option.

Abbey Lee Kershaw with short bangs / fringe
Finally, one more way to mix up the fringe in 2011 – round down the corners to add a mod face-framing effect. This can be very subtle, or more dramatic depending on your preference.
Hair colours suited to the bob with fringe
All and any. There's no real restriction to colour when it comes to the new bob, but we would suggest keeping it to a natural, block colour.
Bob with fringe styling inspiration for '11
Other current trends
If you'd like to find out about other 2011 hair trends, follow the link.
Back in 2008 and 2009
As discussed above, the bob with fringe / bangs hairstyle in 2008 / 2009 emerged from the much shorter style of the pob. It was, however, also influenced by the fact that the pixie crop was on-trend. Thus a short bob was a great alternative for those who wanted to be on-trend but saw the pixie crop as too extreme. As a result, though, the short bob wasn't as standout but it was still a hairstyle that could be owned.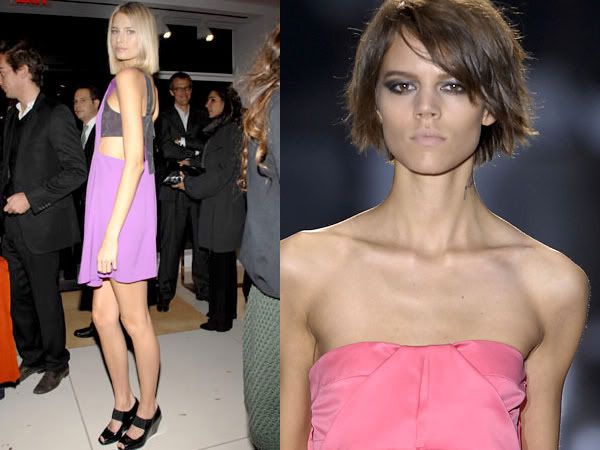 Model bobs: Hana Soukupova and Freja Beha Erichsen with side swept fringe
To provide you with further inspiration for the bob with fringe / bob with bangs hair cut you'll find links below to our coverage of the style across 2008 and 2009.