I love feathers. It's their natural beauty; the compendium of a multitude of hues brought together in vibrant patterns governed by nature… all for attracting a mate. Just think about the grace and style of the peacock and you will see what I mean. Well, the feather trend has been creeping up on catwalks since A/W 08-09, and I think its about time we all took a flight of fancy!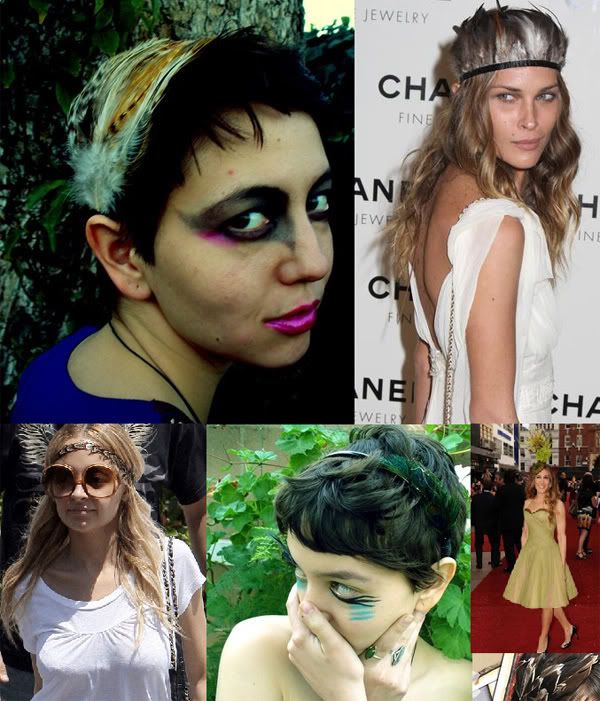 One of the easiest ways to wear the feather trend is as part of headwear. With a choice between a cute array on dainty slides or skinny alice bands with shoots of feathers coming off, it doesn't take a lot of daring to pull it off. Then there's the next step, for the truly fashion obsessed: the headband.
The headband craze sweeping modern bohemia loves their feathered friend. Now headbands can be found made with real feathers on websites that make unique designs (Check out Etsy to see what I'm talking about), or in high street chains like Accessorize who specialise in fascinators adorned with them. Think Peaches Geldof and Nicole Richie and you won't be far off in emulating what I'm describing.
If you're brave you can go for the headdress look a la Erin Wasson at Chanel. Wasson looks like a modern day Tiger Lily, conjuring up images of exotic elegance and fun. The headdress brings a playful touch to her otherwise innocent, pure white ensemble.
Feathers have appeared on clothing as well, but be prepared for a more grown up look here. For Autumn (Fall)/Winter 2009, feather-trimmed coats at Burberry Prorsum and Donna Karen gave a Russian, Dr. Zhivago feel. Feathers also appeared on evening dresses and pencil skirts at Blumarine and Christian Lacroix. This look harks back to the decadence of the roaring twenties and flapper dresses, and ties in with the fringing trend so big on the catwalks in Spring/Summer 2009. I'm not ready to grow up yet, so I'm sticking with dressing up; and the most stylish way of doing this for the present is with feathers. I think I'm even going to make a headdress of my own. Watch this space…
Written by Becky Cope.
Updates